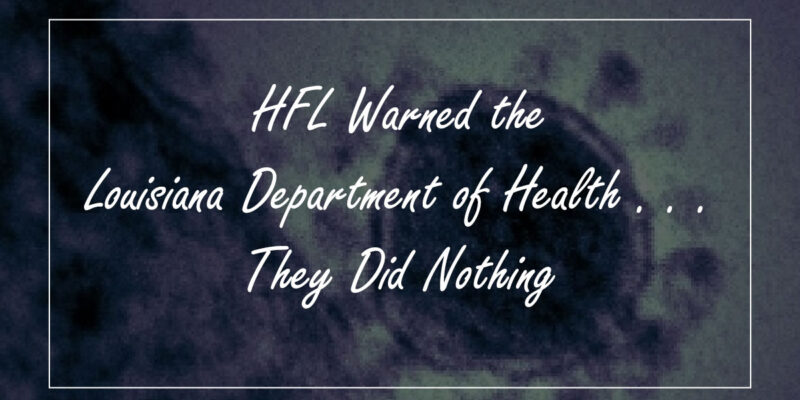 HFL Warned the Louisiana Department of Health . . . They Did Nothing
Below is the letter HFL sent to the entire Louisiana state legislature on May 5, informing them that back on March 12, 2020 HFL sent an email to Assistant Secretary of Health, Dr. Alex Billioux, which included two studies showing that flu vaccination increases the recipient's susceptibility to future acute respiratory infections including certain strains of coronavirus.
We received no response and LDH never warned the public of this potential risk – even though they had recommended people get their flu shot specifically for Covid-19 – not so much ever making a mention of it during their countless press conferences.
And here we are on May 15, 2020 and two days ago, Gateway Pundit published an article, Niall McCrae and David Kurten: EU Numbers Show Correlation Between Flu Vaccine and Coronavirus Deaths.
Throughout the coronavirus pandemic it quickly became known that the elderly fared the worst. Isn't it interesting that "countries with highest death rates (Belgium, Spain, Italy, UK, France, Netherlands, Sweden, Ireland and USA) had all vaccinated at least half of their elderly population against flu"?
It's actually more than interesting.
It's statistically significant.
"A simple test shows a statistically significant correlation of 0.7 (the maximum is 1) [between flu vaccination and death from Covid-19]."
Is it not the responsibility of LDH to inform and warn the public of ALL risks?
Apparently not when it comes to any risks of vaccines. Why would that be? What stake does LDH have in vaccines? If they were truly in the business of protecting public health they would make the information known as it becomes available.
They are clearly biased and this bias is at the expense of public health.
HFL also sent letters to both LDH and the governor's office about the importance and effectiveness of high dose IV vitamin C treatment. Louisiana hospitals refused to implement that treatment. Why?
Below are the letters. Feel free to distribute. To print or download, click on the double arrow in the top right corner below.
We must never forget

the government works for us

.
We need to hold them accountable.