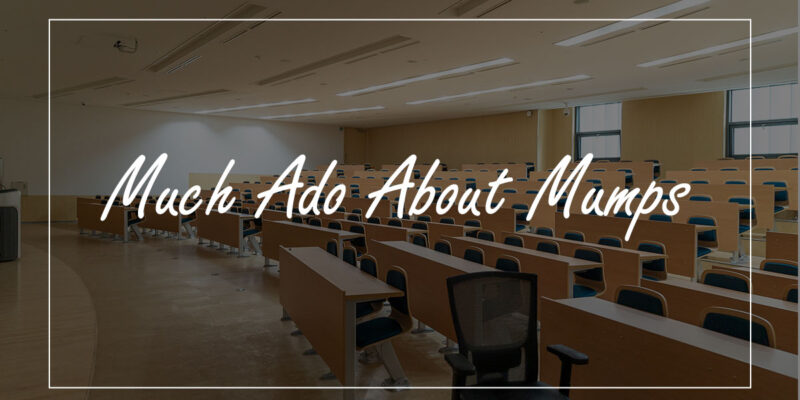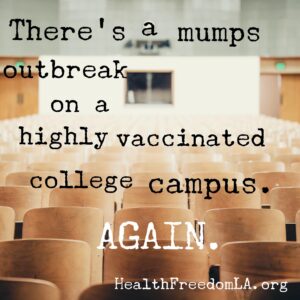 Mumps on a highly vaccinated Louisiana college campus?! You don't say?!
That's probably because any vaccine-acquired immunity will wane just in time to go to college.
But it's not just college campuses. Fully vaccinated professional hockey teams and entire crews on board naval ships have been affected by the MMR's inevitable shortcoming – waning immunity.
Even this fully vaccinated nurse and her fully vaccinated family were impacted by waning vaccine-acquired immunity:
---
Basically, people in any close-contact setting are at risk, vaccinated or not.
The vaccine in question? The MMR. The MMR is a trivalent vaccine that is supposed to protect you from measles, mumps, and rubella, with the first dose given around 12 months and the second dose around 4 years old.
So how does this happen? Why does this keep happening?
Let's break it down:
The vaccine is plagued by low efficacy and waning immunity, with as much as a 69% decline in antibodies during the first eight years after the second dose.(1,2,3,4)
Fully vaccinated populations can spread and catch mumps.(5,6,7)
Merck has been in federal court since 2010 on fraud charges in a whistleblower suit; their own virologists accused Merck of falsifying data and tainting samples.(8,9)
The vaccine program has shifted the age of onset to an older population who is at a greater risk for serious complications while also leaving the most vulnerable (infants) at risk. This was foreseen back in 1955 before the mumps vaccine was even developed.(10,11,12)
Luckily, for the vast majority of people mumps is a mild illness that runs its course without any specific treatment. Mumps was such a mild, common illness with low rates of morbidity, mortality, and disability, that the need or value of a vaccine was even questioned.(12)
So don't let the media scare you. College kids may need to take a break from making out, but last we checked that wasn't an emergency. ?
References: