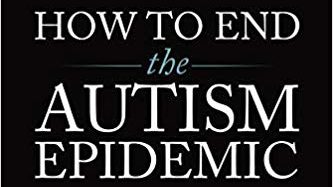 The Book Every Parent Must Read
On September 19 J.B. Handley, co-founder and chairman of Generation Rescue and father of a vaccine injured son with autism, released his new book, How to End the Autism Epidemic.

This. Book. Is. A. GAME CHANGER.
? It addresses and annihilates certain common myths about autism.
? It lays out the peer reviewed, published science that PROVES that vaccines can cause autism and explains the mechanism by which it happens.
?It uncovers the FRAUD that the DOJ (Department of Justice) officials committed, and how the United States government has repeatedly and knowingly sided with pharma over the health of children.
The jury is IN. VACCINES CAN AND DO CAUSE AUTISM.
SO WHAT DO WE DO NEXT?
It's already a bestseller, but we need to get it into the hands of EVERY SINGLE PERSON! Give one to friends, family, the pediatrician, other doctors, school administrators. EVERYONE needs to read this book. Make this your gift to everyone this holiday season!
RFK Jr. with the Children's Health Defense is sending a copy of this book to EVERY legislator – both federal & state! But we need to make sure our Louisiana legislators read it!
SUPPORT the Kennedy/Hazlehurst Petitions to Investigate Fraud and Obstruction of Justice
During the Omnibus Autism Proceeding from 2002-2009, two DOJ attorneys committed fraud and obstruction of justice, preventing thousands of families from receiving their day in court and potentially being awarded settlements for the damages and injuries their children experienced from vaccines. Additionally, the entire trajectory of the vaccine industry could've been changed and children susceptible to vaccine-induced autism could have been saved had Dr. Zimmerman's testimony not been intentionally misconstrued. We need to call the people below and demand the DOJ officials be brought forward to get to the bottom of the fraud and finally right this wrong.
➡️ Congressman Bob Goodlatte, Chairman of the House Judiciary Committee 202-225-5431
➡️ Senator Chuck Grassley, Chairman of the Senate Judiciary Committee 515-288-1145
➡️ The Office of the Inspector General of the Department of Justice 202-514-3435
To read about the fraud and obstruction of justice that occurred:
Chapter 6, which delves into the issue, has been shared in its entirety here: bit.ly/howtoendautismchapter6
You can read Robert Kennedy Jr.'s petitions for investigation that he sent to the government here: bit.ly/rfkjrdojfraud
J.B. donates ALL the profits from the sale of his book to Generation Rescue and other autism organizations. But the Children's Health Defense needs to raise funds to continue this legal battle, overturn the Omnibus Autism Proceeding, and get compensation for EVERY child that's been injured by vaccines.
Children's Health Defense is a 501(c)(3) Charitable Organization, so your donations are tax-deductible. To donate visit: https://igg.me/at/childrenshealth/x
On this groundbreaking episode Del interviews J.B. Handley, Jenny McCarthy, Robert F. Kennedy Jr., and Rolf Hazlehurst to discuss J.B.'s new book, a glimpse into the sordid history behind the vaccine industry, and the legal implications of new evidence that has recently been discovered. Watch it here: bit.ly/highwirethebraveones
The time is NOW. The tide is turning.
Be brave. Do your own research. Read the book. Speak truth.